Escrip Program
Don't miss out!  Help Adoptions Together have access to FREE MONEY!  Participate in the eScrip program (www.escrip.com) and help Adoptions Together raise significant dollars needed to help fund our programs.   Here's how you can help….
Safeway
Your Safeway shopping can support Adoptions Together when you register your Safeway card at www.escrip.com (just call 1-877-SAFEWAY to obtain your  Safeway card number).  For Adoptions Together to receive a percentage of your Safeway rebate during part of the year, you must designate one or two schools or churches/synagogues AND Adoptions Together.  We can receive funding at Safeway during the "10% Goes Back to Schools" promotions that occur in the Fall.
---
Shop Online
Over 1,000 online vendors participate in the eScrip program; just click "Shop Now," choose the merchant you want, and from there you'll go to their Web sites.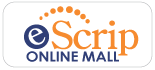 ---
Restaurants
Find participating restaurants at www.escrip.rewardsnetwork.com.  Sign up for the eScrip program at www.escrip.com and select Adoptions Together (and up to two other organizations) to support, then register the credit/debit cards you use at restaurants.  Pay your restaurant bill with your registered card, and Adoptions Together will receive a 2.5% contribution (this rebate will increase to 5% if you later fill out a dining survey that eScrip emails to you).
Questions?  Contact Us 301-422-5107.